Where Can I Buy Hand Sanitizer Bottles?
zhenghao
2019-01-24 13:46:10
Hand sanitizer bottles
are very different from other bottles, which are basically in
pressurized form. In recent years, hotels and guesthouse have also derived customized hand
sanitizer bottles, which are hung on the bathroom wall for convenient use. However, in our
daily life, we seldom buy hand sanitizer bottles alone, but where can buyers buy hand
sanitizer bottles?
For the buyer to buy the hand sanitizer bottles, we recommend empty hand sanitizer bottle manufacturer, shenzhen zhenghao plastic&mold co.,ltd, the one that specializes in hand sanitizer bottles and pump bottles, we have our own website, and listed main products on it, if there is a bottle design that suitable for you, you can ask for an online consultation or send an inquiry on product page.
Here are our some hot sale designs which can be used for hand sanitizer or wash-free sanitizing gel for your reference:
First design: 50ml PET squeeze hand sanitizer bottle
Second design: 8oz 16oz PET hand sanitizer bottle
Third design: 40ml flat squeeze tube
The hand sanitizer bottle is basically not much of a creative space, and the main
difference is the choice of material and shape. The material is mostly PET and HDPE, if the
cost is not considered, the PETG is also selected. If it is smooth and transparent, it is a PET material, if it is a matte rough effect, it is HDPE, and the effect of PETG is similar to that of PET, but the quality is generally better, and the wall thickness is thicker. If selected in shape, they are generally round, square, flat, or dissimilar.
Apart from the material and shape, what makes your hand sanitizer stand out most is the unique LOGO on the package bottle. Therefore, for customers who have their own LOGO, our silk screen printing department is very happy and good at helping them finish it.
In addition, about the design of hand sanitizer bottles, I saw A netizen mentioned A hand sanitizer stand under this question on quora. He said: A handwash stand! You don 't have to touch the bottle to ooze the liquid out. I found this in the canteen of Ashwini at, Cuttuck, Odisha. They followed stringent the methods to keep up with hygiene. Keep going.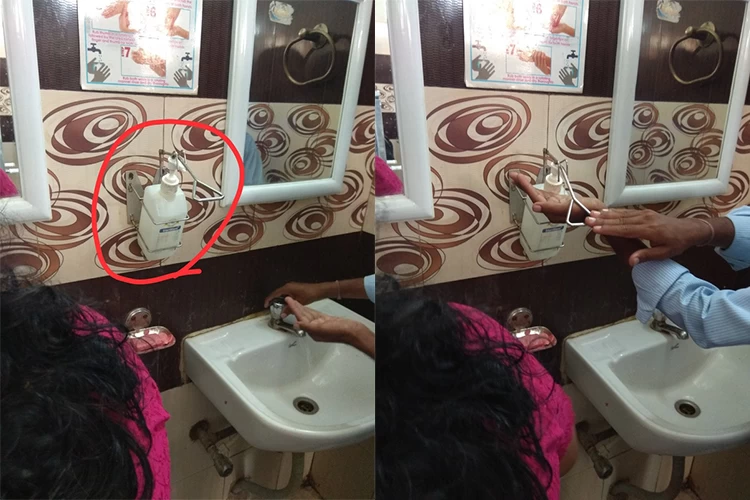 the picture from quora.com

You see, such a nice design first invented by hotel, many people may think this is a small tip, but it does make things easier for users. Looking forward to more and more tips on this kind of life. If you want to buy hand washing liquid bottle, or shampoo bottle with a pump, we refer to our website.
If you have your own design, we have the ability to custom them exactly as you need. So don't hesitate to contact us, we happy to receive you.