The Nivea Skin Care Package Bottle Uses A Pp Spray Cover
Megan
21cp.com
2018-06-22 09:07:15
Some people say that women's skin care packaging bottle looks good to take the first step in the market. Nivea is the most popular and reliable global skincare brand in Beiersdorf, German Hamburg. It is therefore not surprising that this respected brand is very cautious in selecting packaging suppliers for its newly introduced feminine deodorant and deodorant series.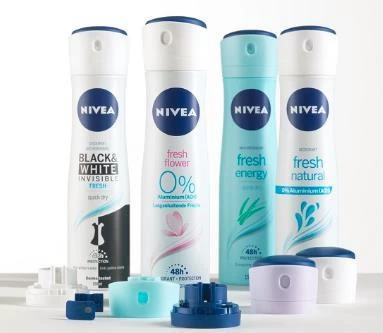 picture from 21cp.com
In the field of physical care, Nivea has developed five spray covers to meet different consumer needs and provide better protection. High-end PP spray caps provide ultra-fine spray patterns, while ergonomic design allows for easy left and right hand activation buttons. Both sides of the finger grip can be easily opened and locked by twisting. This twist lock function ensures that the locking position is closed, securely stored and instantly. In addition to a small perforated channel that breaks the liquid down into small droplets that are made from acetal, the entire spray cover is assembled from PP.
The designer said: 'The biggest challenge is to make the appearance of the sprinkler head unaffected, combined with intuitive use and meet harsh technical requirements." The creation of high-end quality products requires world-class tools and equipment, but the Wiener tool shop and our other strategic suppliers have laid a solid and reliable foundation.'

Nivea deodorant and antiperspirants are packaged in an aesthetically pleasing aerosol jar, they all have new spray caps and Nivea blue buttons to enhance the brand's identity. Now Nivea Deodorant Spray Series is currently being promoted in Europe, and will be promoted in Asia and other continents in the future. We will know from this that a good skin care product must fit with a good packaging bottle, also it's important that cooperating with a reliable plastic cosmetic bottle supplier.