Old Plastic Bottles Become Beautiful Crafts
Megan
http://news.sina.com.cn
2018-04-14 12:04:58
In binzhou, shandong, local enterprises have built the world's only circular economy industrial chain, from old
plastic bottle
recycling, bottle cleaning and processing, spinning to handicraft art textile weaving, In this area, 700, 000 tons of waste plastics can be recycled each year, and formed a batch of recycled polyester wool blanket as the leading industrial cluster, creating considerable economic benefits.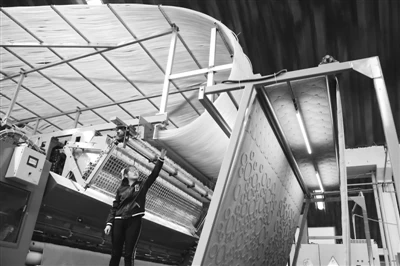 the picture is from ChinaVisual
The picture above showed that, on April 9, the production line uses old plastic bottles to produce all kinds of blanket crafts.
Plastic bottles play an indispensable role in our lives, at the moment, it's impossible to stop using plastic bottles because of the contamination of plastic bottles, therefore, what we can do is to recycle and reuse them in a timely and efficient manner. Of course, there are a lot of ways and means of reuse, we can easily collect PET juice bottles we drank, clean them and use to store some grains and beans, it has the effect of sealing and drying, which can keep our food for a long time.
Furthermore, we can also collect the PET bottles and HDPE bottles that we used often, and transport them to the professional plastic recycling factory or enterprise, as mentioned above, they more likely can turn the old plastic bottles into beautiful crafts.