Our Black Bottle And Jar In November
Megan
2018-11-23 15:08:46
Today we'd like to introduce our new product in October & November, they are mostly Cosmetic plastic
bottle, have other bottles.
First, it's a grand introduction to our black cosmetic bottles. They are unique not in shape or use, but only in black color. Black usually symbolizes nobility, mystery, cool and difference in the fashion world. The fashion industry has also circulated such a sentence, Black is good to sell. Whether it's a dress in people's wardrobes or a small embellishment of home decorations, black doesn't seem to be out of date in the chaos of so many of colors. Even a long time ago, Western fairy tales were full of black mystical charm. Take a closer look at our set of black cosmetics, whether it is a bottle, jar or a tube, their style and size are so suitable for each other, elegant and decent, mysterious and beautiful. and the respective functions are different, basically can meet the needs of most cosmetic packaging, they not only can package lotion, cream, but also shampoo and travel kit. In natural light, the bottle body also takes a nice polish, looks dazzling and shiny.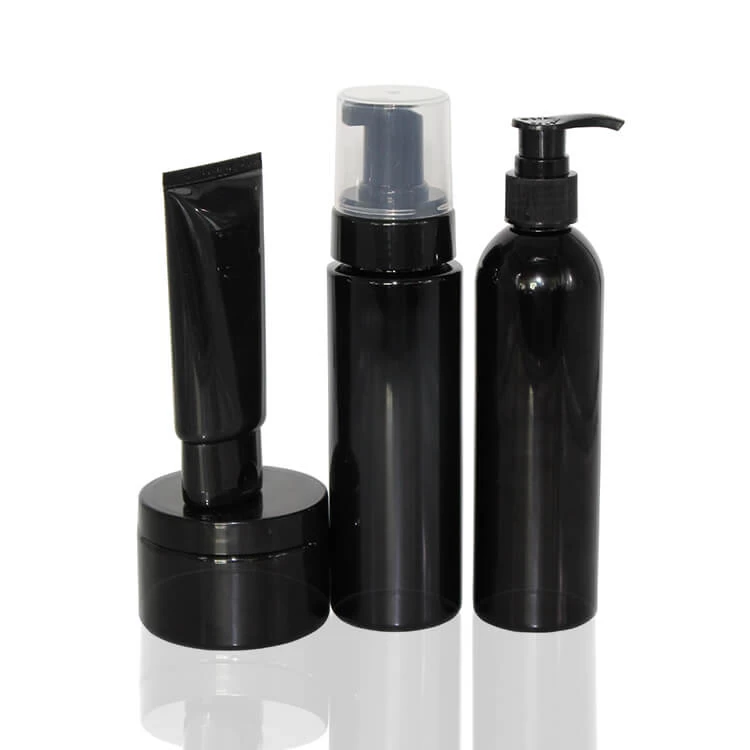 Let's talk about these designs in detail. The jar is 120ml, 73mm in diameter, 51mm in height, perfect for face cream and body butter. The boston bottle is 250ml, can be fitted with mist spray, screw cap, flip top cap, and pump, so different use with different lid. The cylinder wide mouth bottle is also 250ml, usually match the foam pump, suitable for hand wash foam soap. Last, we all know the use of the black tube, packaging cream, shampoo, lotion or other cosmetic packaging as long as you want.
Black is a mysterious spirit. In any case, many buyers prefer our black bottles and jars, and we have been developing and producing black bottles, and believe that these products will increasely dominate the market, and cater to the aesthetic of users.