Variety Types Of Carbonated Drinks
Megan
2017-10-24 18:46:05
We are often drink carbonated beverages in daily life, Our factory also manufactures and exports these
plastic carbonated beverage bottles
, due to the characteristics of carbonated drinks itself, carbonated beverage bottles require the body to be uniformly symmetrical and generally round. And the
plastic PET bottle
is transparent and can reveal the colorful color of the drink itself, It's visually beautiful.
The implementation of carbonated beverage food production license management (soda) products is under certain conditions filling carbon dioxide gas beverages including carbonated drinks, sports drinks and other inflatable specific varieties, not including the production of carbon dioxide gas from its fermentation beverage. The content of carbon dioxide in the finished product (20 times the volume factor) is not less than 2 times. Carbonated drinks are mainly composed of sugar, pigment, sweetener, sour taste, spices and carbonated water, etc. generally, they contain no vitamins or minerals.
Carbonated beverages (soda) can be pided into fruit juice, fruity, cola, low-calorie and other types. such as: Sprite, Fanta, Coca Cola, 7up, Mirinda. Fruit juice carbonated drinks contain 2.5 percent and above natural juice.; fruit-flavored carbonated drinks, which are mainly perfumed with spices, contain less than 2.5 percent fruit juice; Cola carbonated drink refers to the containing cola, white lemon, laurel and caramel pigment; Other carbonated beverages: milk protein carbonated drinks, ice cream soda, etc
There are many kinds of carbonated drinks. In general, the carbonated beverage bottles are round, glossy, transparent and with the PET material. As shown in the following figure, some of the most common plastic soda bottles on the market. These regular bottle types, the production technology has reached a mature stage, the quality of the bottles produced is getting better and better, in addition to our basic requirements for food grade, we can also meet the requirements of quality testing in China and internationally.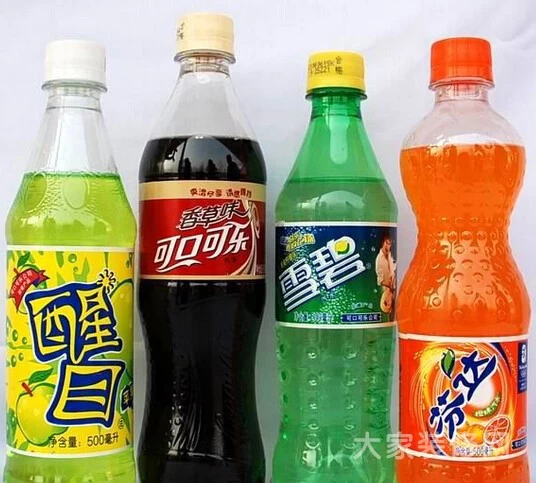 Picture from img.baidu.com