Several Production Processes Of Plastic Cosmetic Soft Tube
Megan
2018-10-27 14:41:50
We are a professional plastic bottle manufacturer specializing in high quality PE cosmetic soft tube,also provide plastic product mold development and injection service. We own a wide kind of cosmetic soft tube products for customers to choose from, we also can customize it according to customer requirements.
Soft cosmetic tube plays an important role in the field of cosmetics packaging, it has excellent gas barrier performance, can effectively prevent the infiltrationof oxygen and odorous gases, and prevent the leakage of contents, aroma and active components. The body caliber is from 13mm to 60mm. When a certain caliber is selected, different capacities are obtained by intercepting different lengths. The capacity can be adjusted between 3ml and 360ml. For the sake of aesthetic coordination, the 60ml below commonly use the caliber below 35mm, 100ml and 150ml usually use 35mm to 45mm caliber, while above 150ml capacity requires more than 45 caliber.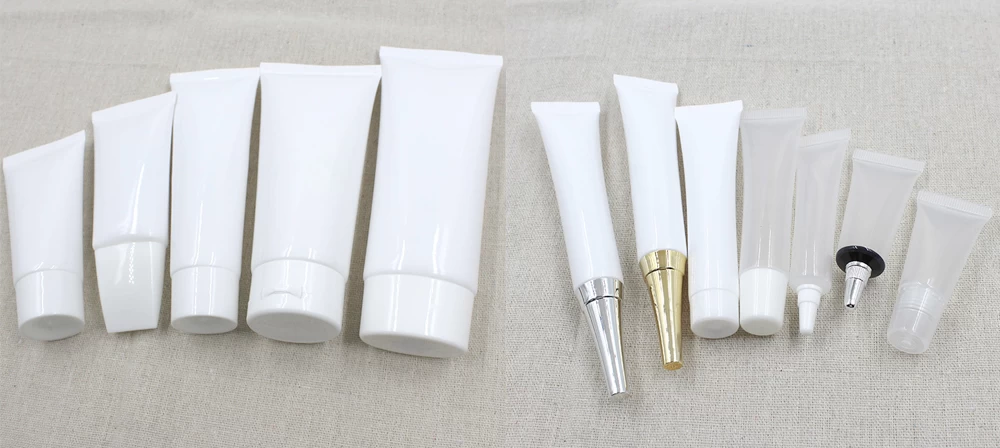 From a technical point of view, they can be pided into circular tube, elliptical tube, flat tube, superflat tube. Flat tube and super flat tube is more complicated than other tube process, it is also a new type of tube produced in recent years, so the priceis relatively expensive.
The tube cover can be pided into flat head cover, round head cover, high cover,flip top cover, super flat cover, double cover, spherical cover and lipstick cover. The tube cover can also be processed in various processes, with gold, silver, colored, transparent, oil injection, electro plating, etc. tipcover and lipstick cover usually equipped with inner plug. The process of tube cover is generally injection molding.
Some products need to be filled before the end is sealed, the end can be pided into: straight sealing tail, twill sealing tail,umbrella-shaped sealing tail, star-point sealing tail  and special-shaped sealing tail, you can require the need date code to be printed at the end of the sealing tail.
Tube can be made of colored tube, transparent tube, sanding feeling tube can be made into colored or transparent, pearlescent tube, and have matte and bright light.
About the printing ways, the tube body can be subjected to multi-color printing and silk-screen printing, and the silk-screen printing is charged according to the number of colors. Our factory also has thermal transfer equipment and technology, the cost of stamping gold and stamping silver is calculated by unitarea. For the tube, the silk-screen printing effect is good, but the cost is slightly more expensive, and the buyers can select different manufacturers according to different requirements on quality and price.
In our factory, the production cycle of the soft cosmetic tube is generally 10 days to 20 days, starting from the confirmation of the sample tube. The order quantity is usually 10,000 pieces, since the capacity requirement of the cosmetics tube is much more, so there are often customers who own the mould themselves, and also make a few special cover moulds.